Testimonials
I have a long term house musician gig at Bar Harbor, on Gull Lake, Lakeshore, MN and need my guitars performing at top condition at all times. I am extremely fussy with my guitars and Mike at MikeTech is my only 'go to' guy. I have three separate cases to share with you:
My first job for Mike was a partial refret on a vintage Gretsch. I was amazed. I couldn't tell where the new frets ended and the other frets started.
Second job was a complete refret on an old Harmony Jag style electric with a bound neck. Totally flawless and plays like a dream!
Third job was on a custom made Carvin CT-6 which is one of their top line instruments. It is a dual humbucker guitar with a premium figured curly maple top, a gorgeous and expensive instrument. I wanted more tonal options so I bought a Carvin single coil pickup and had Mike do a center position route and install along with added electronics to make it all happen. READ: Mike had to do a route on a FINISHED guitar which is no easy task; not many techs would even think of tackling a project like this one! The results were absolutely flawless and STUNNING in both looks and sound! (See before and after photos) It looks even better than a factory job and since Carvin doesn't offer that guitar in an HSH configuration, he's been getting inquiries from other CT owners that want it done. Mike is a world class guitar tech and I trust his expertise in ALL of my tech work; a true and rare craftsman.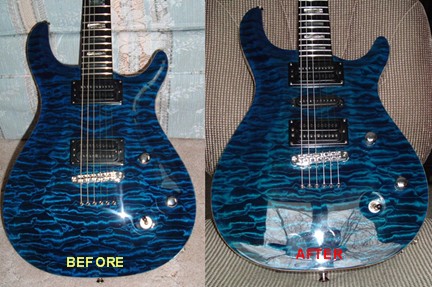 -- Kevin Klimek/ABM Productions
I've known Mike for 25 years. He IS the go-to guy for everything! I call him, GodHead! I've brought him guitars with completely broken off headstocks, pickup holes chiseled through the body (I was in a hurry and used a screw driver) broken boom boxes, keyboards, more amps than I care to admit with every conceivable problem. Never stumped him once!
He even built me a custom, left-handed strung right-handed, 8 string bass!!! And believe it or not, he's nicer than he is talented...and that's saying something. If I were you, I'd go grab my favorite guitar and smash it over someone's head (make sure you're getting this on video) just so you can take it into MikeTech. Everything Mikey Z. touches turn to MAGIC! Thank you, Mike!!! You're the best!!!
-- Randy Engebritson
For over 25 years, Zeleny has been my go-to man for pretty much anything I need in terms of advice and repairs on my instruments, amps, stomp boxes, you name it.
He always delivers beyond the call of duty. He is a living encyclopedia, yet always completely humble, fair and consistent. And unlike the mess in my house, he knows where everything is. Zele-ruler!!!
-- Mark Hasbrouck